How one London newspaper recorded history
Government is now about settling a colony in New Holland, in the Indian seas; and the Commissioners of the Navy are now advertising for 1500 ton of transports.  This settlement is to be formed at Botany Bay, on the west side of the island, where Captain Cook refreshed and staid for some time on his voyage in 1770.
As he first sailed around that side of the island. he called it New South Wales, and the two Capes at the mouth of the river were called by the names of Banks and Solander.
There are 680 men felons and 70 women felons to go, and they are to be guarded by 12 marines and a corporal in every transport, containing 150 felons.  There are several men of war and some frigates to go, but they all come back, but one or two of each, which are to remain there for some time to assist in establishing a garrison of 300 men intended to be left there.
The whole equipment, army, navy and felons, are to be landed with two years' provisions, and all forms of implements for the culture of the earth, and hunting and fishing, and some light buildings are to be run up immediately till a proper fort and town-house are erected.  This place is nearly in the same latitude with the Cape of Good Hope, and about eight months' voyage from land.
– The Daily Universal Register
September 14, 1786
Chronology of the First Fleet
1776                      The American War of Independence begins.  The former American colonies refuse to accept British convicts
1781-2                   Two attempts to establish a convict colony in West Africa end in disaster with most of the convicts dying from disease or privation or escaping.
1783 August          Peace with America prompts the despatch of the Swift transport.  The convicts mutiny in the Channel and many escape at Rye, Sussex.  The remainder are sent on to Maryland.
1784 March           Mercury sails for America with 179 convicts.  A mutiny again takes place, and many escape at Torbay, Devon.  Those remaining on board are sent on to America and eventually landed on the Mosquito coast in Central America after being rejected by the newly Independent United States.
1776 August 18      Lord Sydney writes to the Treasury requesting the provision of ships to carry convicts to New South Wales.
1787 January 6        The first group of convicts are embarked on Alexander at Woolwich, London.
1787 May 13            The First Fleet sails from Portsmouth, Hampshire.
1787 June 3             Arrival at Madeira.  Water and fresh supplies taken on board.
1787 July 14             Fleet crosses equator.
1787 August 6          Arrival at Rio de Janiero.  Fleet undergoes repairs, takes on fresh water and supplies.
1787 September 4   Fleet departs Rio.
1787 October 14      Arrival at Cape of Good Hope.  Fresh supplies and livestock taken on board.
1787 November 12   Departs from the Cape (Table Bay).
1787 November 25   Captain Phillip divides the Fleet and sails ahead with the four fastest ships.
1787 December 25    Christmas Day Aboard Prince of Wales
Being Christmas day, Latd 42 degrees 16.  Longd. 105 degrees 00
East, Wind Fair, Weather
Heasey, Dinned off a pice of pork and apple Sauce a pice of Beef and plum pudding, and Crowned the Day with four bottles of Rum, Which was the Best.  Wee Vitr'ens Could Afford      James Scott Seargeant of Marines
1788 January 3          Coast of Van Diemans Land (Tasmania) sighted.
1788 January 18/19   The first division of the Fleet anchors at Botany Bay.
1788 January 20        The remainder of the Fleet arrives.
1788 January 26      All Fleet ships anchor in Sydney Cove, Port Jackson.  Captain Phillip and officers go ashore, raise the flag, and toast the new colony.  Two French ships commanded by La Perouse enter Botany Bay.
1788 February 15       Supply sails for Norfolk Island carrying a small party to establish a settlement.
1788 March 10             The La Perouse expedition leaves Botany Bay.
1788 May 5/6                Charlotte, Lady Penrhyn and Scarborough sail for China.
1788 July 14                 Borrowdale, Alexander, Friendship and Prince of Wales sail for England.
1788 October 2            Golden Grove sails for Norfolk Island with a party of convicts, returning to Port Jackson.
1788 November 10       Sirius sails for Cape of Good Hope for supplies.
1788 November 19       Fishburn and Golden Grove sail for England.  Only Supply now remains.
1789 December 23       HMS Guardian carrying stores for the colony strikes an iceberg and is forced back to the Cape.  It never reaches New South Wales.
1790 March 19               Sirius wrecked off Norfolk Island.
1790 April 17                  Supply sent to Batavia, Java, for emergency food supplies.
1790 June 3                    Lady Juliana, which left England in July 1789, arrives only three weeks before the Second Fleet ships, saving the colony from starvation and bringing orders for the recall of the marines to be replaced by soldiers of the NSW corps.
1791 March 28                Waaksamheld sails for England carrying the crew of Sirius.
1791 August/October     The Third Fleet arrives.
1791 December 18         HMS Gorgon sails for England carrying many First Fleet marines home to England.
1792 December 11         Atlantic sails for England carrying Governor Phillip and the remaining First Fleet marines who had chosen not to stay in the colony.
Source:
Gillen, MollieThe Founder of Australia – A Biographical Dictionary of the First Fleet, Libary of Australian History, Sydney 1989
Australian Settlers Monuments
In Old Portsmouth on the walkway by the sea wall at the junction of Broad Street and High Street near Square Tower.. 
Memorial Bonds of Friendship was unveiled by The Queen on 11 July 1980.  The block of granite was quarried in NSW and given by the Citizens of Australia.
A twin monument was unveiled at Circular Quay, Sydney Australia, in 1980 as part of the Bicentenary Celebrations.  The memorial was later moved to Loftus Street Sydney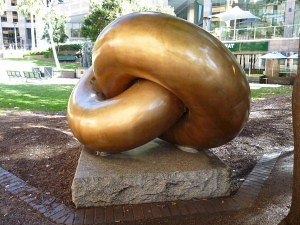 Bicentenary Links, Loftus Street Sydney NSW (C Timbury)
© First Fleet Fellowship Victoria Inc 2011