The First Fleet Marines
Marines were first raised in England in 1664 as the Lord Admiral's Regiment. In 1703 three Marine regiments were raised, becoming the 30th, 31st and 32nd Regiments of Foot.
Between 1740 and 1748, ten regiments of the line were detailed for marine service as the 1st and 10th Regiments of Marines. From 1755 and 1802, there were fifty independent companies of marines permanently in service. In 1802, the Marines became a Royal Corps and tradition has it that this honour was awarded for loyalty during the Nore Mutiny. From 1855 until 1923 the Corps became two departments, the Royal Marine Artillery and the Royal Marine Light Infantry. In 1923 the two departments merged to become the Royal Marines once again.
Marines served in Australia and New Zealand over a longer period than any other British military unit. A small party of Marines landed with Captain Cook in Australia and New Zealand during 1769/70.
Four companies of marines, comprising 213 men, commanded by Major Robert Ross, sailed with the First Fleet for Australia in 1789 and remained in the Colony until their relief by the New South Wales Corps in 1791.
A small detachment of Royal Marines served on Melville Island from 1824 until 1829. A similar force was stationed at Port Essington from 1827 until 1854 and the last force of Royal Marines to serve in Australia as stationed at Cape York from 1802 until 1870.
Although no complete marine units were garrisoned in Australia between 1792 and 1824 a few individual marine officers were attached to garrison regiments in NSW during that period. On reformation of the Corps in 1755, twenty marine companies were allocated to Portsmouth, eighteen to Plymouth and twelve to Chatham. These were known as the Portsmouth, Plymouth and Chatham divisions and it was these divisions that the New South Wales detachment would volunteer 32 years later.
At that time, private marines enlisted for life although discharge by purchase was allowed on payment of 10 guineas. Those who went to NSW, however, had the option of discharge after three years. Recruits were paid a 2 guinea bounty as an inducement to join. Daily pay rates in 1743, which included a food and clothing allowance, ranged from £1.6.6 for a Major to 1/2d for a marine private.
The First Fleet marines were commanded by Major Robert Ross, assisted by his Adjutant, Second Lieutenant John Long, Quartermaster Lieutenant James Furzer, Engineer Officer Lieutenant William Dawes and his four Company Commanders, Captains James Campbell and John Shea and Captain Lieutenants James Meredith and Watkin Tench.
The marines were armed with the 'Brown Bess', a smoothbore flintlock musket, .75 cal fitted with a triangular socket bayonet. This weapon, although slightly shorter, was generally similar to the sturdy and reliable musket which served the British soldier so well until after the Battle of Waterloo. The official objectives for the NSW detachment were – to form a military establishment on shore for the dual purpose of protecting the settlement against aborigines and preserving good order. The marine corps at that time was regarded, quite unjustly, as inferior by the regular Army. It was hoped by Major Ross that the choice of a marine unit for NSW and its performance there would raise the status of the Corps and overcome the Army's general aversion to the service. The relief of the marines by an Army, rather than another marine unit would seem to indicate that Ross's expectations were not fulfilled. Although this view was held in some government circles in England, the weight of opinion amongst those in authority in the Colony would indicate that the detachment, as a whole, far exceeded its limited objectives.
The marines had helped physically to build the early colony. They had acted as its guardian during the desperate early times of settlement. They had provided a backbone of discipline and order whilst Phillip and his civil staff had laid the foundations of an organised society. They had sought no privilege in the issue of rations and they had not exercised their authority in a repressive manner. Despite their difficult position in patrolling against the aborigines, they had succeeded in sustaining a restrained relationship with the indigenous population.
Paradoxically, it was Ross himself, aided by Campbell, who had brought the unit into disrepute in England. Ross's rancorous disposition and carping criticism of Phillip, supported by accusations of inadequacy by Campbell in private letters to powerful figures in England had undermined the Governor's status in the eyes of his home government. Despite Phillip's later complaints of Ross's actions and defence of his own behaviour, the marines' reputation had suffered and the decision was taken to relieve the detachment with the NSW corps – a decision which was later to be deeply regretted throughout the little Colony and at home. Nevertheless, when the facts became known, Ross was severely censured in England for his behaviour in NSW.
The reputation of the marines in the Colony, as distinct from that of Ross, stood high. Judge Advocate Collins, as a marine himself, was familiar with the corps but was also sufficiently detached to assess its quality without bias. He commented that the NSW marine detachment comprised as valuable a corps as any in His Majesty's Service.
Feature article in the First Fleet Folio April 1989
Private Marine Daniel Stanfield
Marine and settler, Daniel Stanfield was reputed to have come from an English naval family. He arrived with the First Fleet at Port Jackson as a private in the marines. Promoted to corporal, he married Alice, widow of Thomas Harmsworth, on the 15 October 1791 at St Phillip's Church, Sydney. In less than a month he was on duty at Norfolk Island.
In 1794 he was discharged from the marines and sworn in as constable and started to farm. He received two goats from Governor King, who described him as a deserving settler. In March Stanfield was robbed and petitioned, with other settlers, to Lieutenant Governor Gross for restoration of arms which they had both been deprived of by Government order.
Stanfield talked of enlisting in the NSW corps and in November 1794 he sailed in the Daedalus for Port Jackson. The following October he returned to Norfolk Island in the Supply with his wife, four children, 30 sheep and 35 acres of his 120 acres under cultivation.
When the evacuation of Norfolk Island was planned, Governor King requested Stanfield to remain and encouraged him by offering additional land. However, keen and determined, Stanfield did not find life easy, and he sailed with his family in the City of Edinburgh, arriving in Hobart Town in October 1808.
Next month he took up land at Green Point near Bridgewater and built a weatherboard house, which he valued at more than £2,000 (pounds), which stood for over a century. There Stanfield's industry and enthusiasm brought better results than at Norfolk Island. By February 1825 he had been granted 1200 acres in widely separated areas, he had purchased 890 acres more and claimed to have 1,000 cattle, 800 sheep, 10 horses, a flour mill and other capital. His only grievances were that Michael Howe had raided his stockyard and other bushrangers had plundered his properties, though he was sometimes compensated by more land.
In 1826 he was summoned to give evidence against receivers of good stolen from him, but he died suddenly on 4th February, leaving a very numerous and opulent family. His eldest son, Daniel, was baptised 25 April 1790 at St Phillips church. He inherited in full measure his father's energy and acquisitiveness and a great deal of property. But he was not entirely reliant on his father – by 1825 he could claim 450 cattle, 600 sheep, 7 horses and other cattle. His land grants included 450 acres from Governor Macquarie, 300 from Governor Brisbane and 300 from Governor Arthur he bought 850 acres of Green Lagoon. His brothers also had land and stock, and in 1827 the land commission reported that the Stanfields, a large clan altogether, have had immense herds of wild cattle roaming all over this quarter of the Island and finding themselves limited, have driven hundreds to the sea coast.
Stanfield improved his properties and became a well-known stock breeder. In 1828 he was one of the first in Van Diemen's Land to export apples to Britain – 1 specimen was one foot in diameter, but the shipment did not carry well. Like his father he had trouble with the bushrangers, and by 1825 he had been twice in Sydney to give evidence at trials. In Hobart, January 1808, he married Maria Kimberley the daughter of a transported First Fleet convict Edward Kimberley. They had a large family. Daniel Stanfield jnr died 28 March 1856.
Herbert STANFIELD
Sergeant of Marines James Scott
James Scott, Sergeant of Marines, travelled to NSW on the First Fleet aboard Prince of Wales, accompanied by his wife Jane. His daughter Elizabeth was born on the voyage out and his son William Boxell was born in Sydney in 1790. James Scott had married Jane Boxell in 1796 at Portsea, Hants.
During the voyage, and intermittently during their stay in New South Wales, James kept a diary. This journal is now in the Dixson Library in Sydney as part of the Sir William Dixson bequest. It is believed to have come from the estate of a Miss Russell, a connection between John Russell and James Scott.
The journal is written in a tall notebook, measuring 32 cm by 20.5 cm, the soft cardboard covers are much worn and rubbed, but it is now protected in the library by a chamois lined morocco folder in a dark morocco case, tooled in gold. The handwriting is large and looks clear and Scott expresses himself simply. However his bad spelling and many alterations have made it difficult to transcribe some parts. Each page has a heading and there is a wide ruled margin in which are written the dates of entry. It is marvellous to have this record and also the diary of Private Easty of the Marines as it highlights what interested 'the men' as distinct from the officers. Like soldiers at all times they were interested in their own daily lives, in promotions and punishments, in food and grog and women.
Not very much is known about Scott. The baptisms of the two children are recorded in the Registers of St Phillip's Church and James Scott is mentioned as a witness to several civil court cases in the Minutes and Proceedings etc of the Bench of Magistrates of the County of Cumberland. One case involved Scott and his wife Jane when a soldier's wife, Martha Davis is charged with scandalously abusing James Scott, a Serjt of Marines, & Jane Scott his wife, on Friday night the 15th instant. The case was heard on 23 April 1791; in her defence Martha Davis accused Jane Scott of having thrown out Suspicions and Surmises of her conduct, suggesting that she had been gossiping, with or without foundation we do not know.
The Scott family boarded the Gorgon transport on 31 October 1791 to return to England and all were discharged at Spithead on 1 June 1792. James Scott died at Portsmouth early in 1796 after serving as a squad sergeant.
Article featured in the First Fleet Folio December 2005
Corporal of Marines John Gowen
John Gowen was a Corporal of Marines on HMS Sirius. His grave is in the church yard of Christ Church (Anglican), Kiama NSW. The plates on the tomb top were later additions.
The Kiama & District Historical Society in 1977 recorded the inscription that is no longer visible on the tomb top. (Photo C Timbury)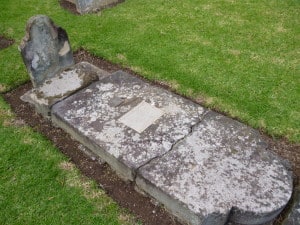 Mr John Gowen
Who died April, 28, 1837
Aged 74 years
He arrived in this Colony in the First Fleet
Strangers, friends, as here you see
the sad truth of mortality
Let each one ask Himself, Am I
Prepared, should I be called to die
Death Notice
On the 28th April, at Kiama, Illawarra Mr John Gowen, aged 74 years. He came in the first fleet to this Colony, and filled the situation of Government Store Keeper for the long period of 22 years, when he retired on a pension for his honest and upright services; he is deeply regretted by his relations, and all that knew him.
The Sydney Monitor (NSW: 1828-1838), Wednesday 10 May 1837, page 3
Private Marine Michael Murphy
was born about 1760 at Wexford, Ireland, and his description as a man was 5'8" tall with dark completion, dark brown hair and grey eyes.
Murphy was a Private Marine in the 41st Portsmouth Company, enlisting at Portsmouth on 3 July 1779 and in the years of 1780-83 was serving in the West Indies. Back in Portsmouth in 1785, he was serving on the guard-ship Ardent. On 24 February 1787 Murphy joined Sirius as part of the ship's marine complement and was discharged on 5 June 1789 from the ship's books to the Port Jackson detachment.

When Gorgon was in Port Jackson in 1791, Murphy did duty on board from 31 October to 11 December. On 6 April 1792, Murphy joined the NSW Corps, serving 5 years to 5 April 1797, and receiving a 60 acre grant at Bankstown on 6 April 1798. In January 1799 he shared a grant of 200 acres at Bankstown with Stephen Gilbert which was sold by January 1800 to Matthew Flinders.
In 1800, he rejoined the NSW Corps. On 24 March 1805 Murphy was transferred to Port Dalrymple, VDL as a member of the 102nd NSW Corps with Colonel Paterson on the Lady Nelson. Among the passengers was Eliza Paterson, the wife of the Commandant; accompanying her, was her maid Ann (Hannah) Williams, a convict who had arrived in Sydney aboard the Nile in 1800. The list of passengers on the Lady Nelson was extracted from HM Ship Buffalo's muster roll, there being no separate list for Lady Nelson when she sailed from Port Jackson to Port Dalrymple in March 1805.
As Archibald Murphy, Michael was married to Hannah Williams on 10 March 1811 by the Reverend Robert Knopwood in Launceston Tasmania. On the same day their four daughters were baptised, Ellinor (b 1804 Sydney), Elizabeth, Mary and Jane. The father's name recorded in St Johns' Parish records was Michael. Two more children were to follow, Michael (1812) and Maria (1814).When in 1810, the NSW Corps was recalled to Sydney Murphy transferred to the NSW Veteran Company. But in 1814 sees Murphy back in Parramatta and then at Emu Plains, until his death at the age of 63 on 10 January 1823. He is buried at St Matthew's Windsor. The registration of his burial details records him as Archibald Murphy.
Michael Murphy had served a total of 37 years and 321 days in the Marines and the NSW Corps.
Michael Murphy was buried in the church yard
St Matthews Windsor NSW (Wikipedia) St Matthews Church
is the oldest Church in Australia. It was built by convicts between 1817-1820
Hannah (Williams) Murphy died at Woodford Victoria on 1 June 1857 and was buried in the Warrnambool Cemetery Victoria. A headstone was erected on her grave many years later with the inscription:
In Memory of
HANNAH MURPHY (WILLIAMS)
Born 1773, Carmarthen, Wales
Died at Woodford 1.6.1857
Transported to Sydney on "Nile" 1801
and Her Husband
MICHAEL MURPHY 1758 – 1823
Marine on "Sirius" 1788
Buried at St. Matthews, Windsor, NSW
The postscript to this story is that Michael and Hannah Murphy's eldest daughter Ellinor, married Charles Lucas, the tenth child of First Fleeters, Nathanial Lucas and Olivia Gascoigne on 27 January 1820 in Launceston Tasmania.
They went on to have sixteen children. The Lucas family farmed in Launceston growing wheat. They returned to Sydney in 1836 and for a time farmed in the Queanbeyan District of NSW. In November 845, they moved onto Bairnsdale in Victoria and settled there. Their original holding was name 'Cascade' after the area on Norfolk Island where several of the Lucas/Gascoigne children were born. They bought and sold several properties in the Gippsland area finally settling at Bruthen Creek.
John KILLIAN
Encouragement of the Marines to become Settlers
Taken from a School Project – The First Fleet and Early Sydney 1788-1810
School Projects can be purchased through Saleable Items tab
The arrival of the first ship the Lady Juliana of the Second Fleet in 1790 was a cause of much excitement in the new colony. Amongst the correspondence from the homeland was the orders for the formation of the New South Wales Corps, and encouragement for the marines to become settlers.
"In consequence of the assurance that was given to the non commissioned officers and men belonging to the battalion of marines, on their embarking for the service of this country, that such of them as should behave well, would be allowed to quit the service on their return to England: or be discharged aboard upon the relief taking place, and permitted to settle in the country – His Majesty has been graciously pleased to direct the following encouragement to be held up to such non-commissioned officers and privates, as may be disposed to become settlers in this country or in any of the islands comprised within the government of the continent of New South Wales, on the arrival of the corps raised and intended for the service of this colony, and for their relief, viz:
To every non-commissioned officer, an allotment of one hundred and thirty acres of land, if single; and one hundred and fifty acres if married. To every private soldier, an allotment of eighty acres if single, and of one hundred acres if married; and also an allotment of ten acres for every child, whether of non commissioned officer, or of a private soldier. These allotments will be free of all fines, taxes, quit rents and other acknowledgements for the space of ten years; but after the expiration of that period will be subject to an annual quit rent of one shilling for every fifty acres.
His Majesty has likewise been farther pleased to signify his royal will and pleasure, that a bounty of three pounds be offered to each non commissioned officer and soldier who may be disposed in this country and enlist in the corps appointed for the service of New South Wales with a farther assurance, that the case of a proper demeanour on their part, they shall, after a farther service of five years, be entitled to double the former portion of land, provided they then choose to become settlers in the country, free of all taxes, fines and quit rents, for the space of fifteen years; but after that time, to be subject to the before mentioned annual quit rent of one shilling for every fifty acres.
And as a further encouragement to those men who may be desirous to become settlers and continue in the country, His Majesty has been likewise pleased to direct that every man shall, on being discharged, receive out of the public store a portion of clothing and provisions sufficient for his support for one year; together with a suitable quantity of seeds, grain etc, for the tillage of the land; and a portion of tools and implements of agriculture, proper for their use. And whenever any man, who may become a settler, can maintain, feed, and clothe, such number of convicts as may be judged necessary by the governor, for the time being, to assist him in clearing and cultivating the land, the service of such convicts shall be assigned to him."
Article featured in the First Fleet Folio June 2000
Private Marine Thomas Lucas
On Tuesday 27 February 1787 a detachment of 1 Captain, 2 Lieutenants, 2 Sergeants, 2 Corporals, 26 Privates and 1 Drummer went on board the Scarborough transport. Thomas Lucas would have been part of this detachment. The following Sunday 4 March, 185 convicts were taken on board. Amongst them would have been Nathaniel Lucas, and there is a persistent rumour that they were brothers, but it is hard to find clear evidence that this is the case. The Fleet weighed anchor on Saturday 12 May 1787, and arrived at Botany Bay on 19 January 1788, at 8 o'clock. At half past nine they sailed through the heads. The Scarborough stayed a week there while some stores were transferred to others ships and some Marines went ashore as guards or to work. All the work ashore was done by Marines or seamen.
The Scarborough then sailed for Port Jackson and anchored close to the shore at Sydney Cove. That night the landing began, when four convicts were sent ashore, and then the marines disembarked with all their baggage, and the rest of the convicts.
The life of the marine detachment at Port Jackson seems to have been comparatively easy. The marines were there, not to act as overseers to the convicts, but to provide protection from external attack. During their stay, those of the marines who had trades worked at their trades and were paid for it. Thomas Lucas' name does not appear on this list.
Most of the time the marines had to face the boring round of duty, mounting guard, reporting worn out boots and uniforms, short rations and the question must often have been discussed as to whether they would be relieved at the end of three years, as they had been promised when they volunteered. On the 1 October 1788, only 5 officers and 4 other ranks were prepared to accept the offer of a grant of land and to accept discharge in the colony.
In December 1790, the ship Lady Juliana reached Sydney Cove. This was the first ship to arrive from England since the First Fleet. She carried 226 female convicts. This arrival was an important milestone for Thomas Lucas, because among the convicts a woman was the spinster Ann Howard. She had been convicted at the Old Bailey, and sentenced to seven years transportation.
It seems that Thomas Lucas and Ann Howard began to live together at Sydney Cove, and on 29 December 1791 a son was born. On the 29 January 1792 he was baptised Thomas. This was the period when the colony was on extremely short rations. With the responsibility now of a de facto wife and a tiny baby, when volunteers were called for transfer to the New South Wales Corps, Thomas Lucas enlisted for five years, and was promoted to Corporal, joining the new Corps in April 1792.
Thomas Lucas appears to have still been stationed at Sydney until he left as part of a relief detachment in September 1794, with Ann and the baby Thomas on the store ship Daedalus for Norfolk Island. Ann was pregnant again, and she and the toddler Thomas were landed on Norfolk Island in October 1794, but Corporal Lucas did not come ashore until a week later. Perhaps he had to stay on board until unloading was finished. The soldiers all landed a week later.
Two months later Ann's sentence expired, and then on 20 December 1794, baby Richard was born, but there is no record of his baptism. Thomas continued in the Army for two and a half years, and was discharged on 6 April 1797. As a former Marine he was entitled a land grant of 60 acres, and Governor Hunter granted this in August 1797. In the meantime a third son, John was born, but he was not baptised until four years later. In most of the Norfolk Island records the children are recorded under the name Howard, not Lucas.
The farm was developed, and a living was made by the sale of wheat, maize and pork to the government stores.
On 19 October 1799, a fourth son was born called Nathaniel. On Sunday 2 August, the Reverend Henry Fulton, baptised the two youngest children, John and Nathaniel. Fifteen days later (probably after banns had been published for the necessary three Sundays) Thomas and Ann were married on 17 August 1801. Thomas signed his usual clear signature, but Ann made her mark.1'
In 1803 the decision was made to abandon Norfolk Island. Thomas Lucas elected to be transferred to the Derwent. When the Lucas family left Norfolk Island they left behind a farm, which had been developed with 42 acres cleared and 17 acres not cleared. They had a shingled house of two floors, a thatched and boarded barn of two floors, 3 thatched outhouses and one boarded outhouse, various sheep and pigs as well as what and oats being cultivated.
The settlers were granted compensation for the farm and stock, and promised a grant of land four times as much, i.e. for Thomas Lucas, 240 acres, in Van Diemen's Land. Nevertheless, the settlers were reluctant to move. On 3 September 1808, the City of Edinburgh took aboard the last group of settlers for Van Diemen's Land, and the Lucas family was among them. They sailed on the 9 September, and arrived in Van Diemen's Land 2 October 1808.
The Lucas family settled into Van Diemen's Land, and apparently chose land at Brown's River near the present Kingston, where they are recognized as the first settlers. A muster on 30 April 1809 shows Thomas Lucas as having 530 acres between Hobart Town and Brown's River. This was the largest holding in Van Diemen's Land at the time.
On 29 August 1815, at the age of 56 Thomas died and he was buried in St David's Cemetery in Hobart. At his funeral the Masonic Lodge performed their ceremonies over a brother mason at the graveside.
A few months later, on 14 December 1815, the eldest son Thomas married Elizabeth Blinkworth. The following year, 1815, the second son Richard married Elizabeth Green, a widow with two children.
In this period Ann apparently ran the farm with the help of her sons, supplying wheat and meat to the Government stores. Ann lived to see John married to Sophia Sherbud on 21 July 1824, but Nathaniel was still single in 1832. Ann died, aged 74 and was buried beside her husband in St David's Cemetery, the inscription on the tombstone reading:
THOMAS LUCAS, a Marine settler, who came from England
With his Excellency, Governor Phillip, at the first forming of the
Territory of New South Wales, who died 29th August, 1815,
(aged 56 years). ANN LUCAS, wife of the above, who died 10th June 1832.
Geoff GRANT
(Geoff was especially interested in the thought that Thomas may have been related to his ancestor, Nathaniel Lucas. The information Geoff obtained from the book Nathaniel and Olivia written by Rhonda Kroehnert and Betty Taber).
Article featured in the First Fleet Folio October 2004
WILL OF THOMAS LUCAS
In the name of God Amen, Thomas Lucas yeoman of Browns River in the District of Queenborough Van Diemen's Land of sound disposing memory and ???? understanding thanks be to God, the same do make this my Last Will and Testament in manner following viz.
I do nominate, constitue and appoint my beloved wife Ann Lucas, joint Executrix with my well respected friends Richard Pitt of Pitt Farm and Robert Littlejohn of Montrose Estate both of the District of Buckingham Van Diemens Land, Executors and Trustees to act as General Trustees and Executors in the perfect arrangement and management of all the concerns herein afternamed. First I give and bequeath ???? love and affection to my beloved wife and executrix Ann all my freehold estate of one hundred and eighty two acres of land known by the name of Lucas's Farm, which I now possess together with all my horned cattle, sheep, hogs and goats and all my household goods and furniture during her natural life, then and immediately after the decease of my said wife, Ann Lucas, I give, divide and bequeath the aforesaid free holding estate of one hundred and eighty two acres of land in Browns River and district aforesaid to my two natural sons, John and Nathaniel Lucas to them their heirs and assignees for ever to be equally divided between them by my aforesaid executors, Richard Pitt and Robert Littlejohn aforesaid. Also I give divide and bequeath to my natural son Richard Lucas all that my free hold estate known by the name Nash's Farm at Browns River aforesaid of one hundred acres of land to him, his heirs and assigns forever. Also I give and bequeath all the horned cattle, sheep, hogs and goats and household furniture after the decease of my wife aforesaid to my four natural sons, Thomas, Richard, John and Nathaniel Lucas to be equally divided amongst them share and share alike by my Executors aforesaid. Provided and always that if any of my above natural sons should happen to die under the age of twenty one years his estate to be divided amongst the survivor or survivor's share and share alike and that no debts or mortgages be contracted by them that shall effect the estates under the age of twenty one years. Also my meaning and will is that just debts and funeral expenses be paid out of my freehold estates commonly known by the names of Lucas's and Nash's Farms aforesaid and I do hereby revoke and make null and void all former will and wills by me at any time heretofore made and declare this to be my last will and testament in witness whereof I have subscribed my name and set my hand and seal this fourth day of August eighteen hundred thirteen.
Thomas Lucas
Signed, stated, declared and published by the above ???? Thomas Lucas the testator as his last will and testament in presence of us who at his request and in his presence ???? ???? our names as witness ???? ????.
James Lord
Robert Nash
Sourced from the files of C Timbury
Two Marines noted as missing

Thursday 30 April 1798: James Scott, Sergeant of Marines and John Easty noted that two marines were missing. Easty wrote, about one o'clock in the afternoon Edward odges, Michell Towlien, Marines which belonged to rose hill and was doing Duty thare went out a Shooting and was Lost in the woods.
Saturday 2 May: Scott recorded that a greyhound, which Tolan and Odgers had taken with then, returned to camp at Rosehill.
Wednesday 6 May: Scott wrote that he had abandoned all hope that Tolan and Odgers would be found, because of bad weather.
Their ration of provisions, except in being debarred from an allowance of spirits, was equal to that which the marines received. Under these circumstances I record with pleasure, that they behaved better than had been predicted of them – To have expected sudden and complete reformation of conduct were romantic and chimerical
Watkin Tench – on the convicts
Private Marine Thomas O'Brien
Thomas O'Brien was a 23 year old marine on the Scarborough and came to Australia as part of the First Fleet. He had enlisted as a private in the marines on a 3 year contract in 1787. Some special incentives to join were that they could discharge after three years service with a sign on fee of 2 guineas ($4) and a daily pay rate of 7 cents plus 5 cents clothing and food allowance.
Lieutenant King on 15February 1788, at Governor Phillips direction, 3 weeks after the First Fleet landing at Sydney Cove had taken a party of 9 male, 6 female convicts, 2 marines, 3 seamen, 3 officers and a surgeon on the Supply to establish a camp on Norfolk Island 13 days away by sail. It was thought the better soil and climate on the Island would supplement the food to supply the Colony at Sydney Cove, the tall pine trees could be used to make new masts and the flax for new rigging for the British fleet which had been severely depleted in the war against America.
By October 1791 Thomas had completed his 3 year contract with the marines and so in November 1791 he elected to stay in the Colony and sailed on the Atlantic with convicts and 28 other marines who had been discharged at Port Jackson to become free settlers on 60 acre grants on Norfolk Island.
Susannah Mortimer married Thomas O'Brien on Norfolk Island in November 1791.
Susannah Mortimer, age given as 24, had been sentenced at Exeter Lent Assizes on 18 March 1788 to 7 year's transportation (commuted from a death sentence by hanging) for stealing 2 sheep with John Rice in August 1787 at Moreton Hampstead, Devon. She eventually sailed from London on 29June 1789 after spending 22 months in gaol and came to Sydney with around 240 female convicts, 6 marines and 30 crew on the Lady Juliana arriving in Sydney nearly 12 months later on 3 June 1790. In early August 1790, eight weeks after landing at Sydney Cove, Susannah was among 194 male and female convicts transferred to Norfolk Island in Surprise. She brought with her a young child, Susannah who had almost certainly been born on the voyage from England.
The O'Brien family were successful farmers on their 60 acre allotment and by 1808 they had 8 children, 6 sheep, and 72 pigs with 140 bushels of maize in store. They were regarded as first class settlers.
Their children born Norfolk Island were
Catherine O'Brien 27-8-1792; Mary Ann O'Brien 26-2-1794 d 21 -2-179 , infant;
Agnes Theresa O'Brien 18-7-1795; Elizabeth O'Brien 1799; James O'Brien 1800;
William O'Brien 24-2-1802; Margaret O'Brien 2-1803; Mary Ann O'Brien 1804;
Thomas O'Brien 1808
The settlement at Norfolk Island did not achieve the objectives of the Governments of Sydney Cove and Britain. The harbour was treacherous and in fact in 1788 the HMS Sirius was sunk there attempting to land settlers on the Island. The climate was wild and attempts to grow provisions were not too successful. The use of the Pine Trees for ships masts and the flax for rigging proved quite worthless. So with all facts considered and the Sydney Colony now self supporting with food, the Government decided to abandon the Island and ship all the inhabitants to Hobart Tasmania.
Thomas O' Brien his wife Susannah and 8 children were shipped to Hobart on the City of Edinburgh on 3 September 1808 along with approximately 250 others.
The family settled in New Town district, Hobart and took up 100 acres, the area originally was called O'Brien's Bridge and later renamed Glenorchy. There is still a bridge in the Glenorchy area called O'Brien's Bridge. In May 1809 Thomas signed the address to Bligh from the Derwent Settlers.
Susannah O'Brien was buried 31 December 1846, aged 86. No record of the death for Thomas O'Brien has been found.
Article submitted by Robert Smith in USA. August 2013
© First Fleet Fellowship Victoria Inc 2013